5 best brain training game apps
|
Don't you think that an idle mind is a devil's workshop is a true phrase? To deal with everyday tasks and enhance intelligence, it is vital to have a sound mind in a sound body. There are surely some physical activities and games that assist in improving logic skills and enhances cognitive skills but with the latest advancement in technology, the new brain training game apps for Android users claim to advance concentration and boosts positive effects on individuals mind. Few minutes spent daily by playing the following 5 best free brain training game apps are considered an essential aid to stimulate mental health.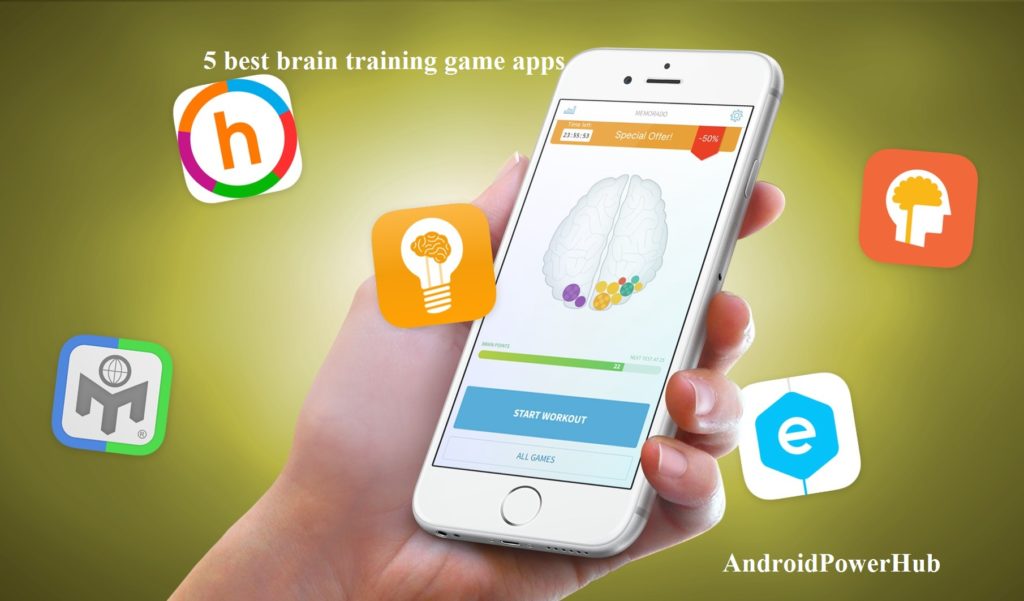 Do brain training game apps work?
brain training game apps are indeed available for Android and iOS users and these amazing apps surely hold cognitive advantage according to the new investigation. Such applications assist in processing speed, working memory and improve the functions of the brain while it preserves cognitive health usually in adults. All of the brain training game apps are exceptionally designed to improve memory, helps in focusing, develop intelligence, advance thinking skills and supports to improve the performance of everyday tasks. The recent study has shown that playing these games assists to prevent brain aging and improves mental agility.best Android games of 2023
5 Best brain training game apps For Android
Indeed, brain training game apps improves concentration and memory. It also enhances cognitive skills and IQ with positive effects on mental health. We have gathered 5 best brain training game apps for Android that will improve mental health and challenge working memory.
Elevate
It is a brain training app available for free for all Android users. The free app enables a user to enjoy personalized brain training program assisting to improve cognitive skills, enhances processing speed and enables to develop better focus. Elevate comprises at least forty different games that intend to improves learning ability, self-confidence, and productivity. Various games and activities are enabling to focus on writing, articulation, math, listening and reading. They also teach users to work on communication skills. Different levels challenge the vocabulary, focus on grammar, and also expand the skills to read comprehension. It is good to go through daily challenges to bring out real improvement. best quick pc game apps for training your brain
Lumosity
The most colorful and fun brain training app Lumosity is created with the help of at least 100 different researchers. Lumosity app comprises of 50 different mini-games that are fun and colorful. All of the activities and games are uniquely designed to train main brain functions including attention, memory, speed, problem-solving and flexibility. It offers memory exercises as well and discovers the strongest brain area with problem-solving activities, memory games, speed and word games and even math exercises. Thus, the app offers great relaxation to its users.
Peak
The highly recommended and most rated exceptional brain training game app is available for free on Google Store. It lets an individual practice random game along with basic statistics to challenge cognitive abilities. All of the games are hard, uniquely designed with intense practices to test problem-solving, memory, focus, mental agility and much more. Individuals can achieve their goals, improve and stay motivated.
CogniFit
CogniFit is a work of neuroscientists that helps to improve an individual`s cognitive ability along with concentration and memory. The game possesses different challenge rounds which are further modified according to the difficulty levels. Daily 20 to 30 minutes spent on the app will surely bring out apparent improvement in the user abilities. The brain training app tracks the user's progress and enables them to access the complete insights of human brain health. So let's sharpen the memory and focus on increasing the attention.
Eidetic
It is also one of the best free brain training game apps based on a spaced repetition technique. It assists an individual to memorize different daily routine work that includes phone numbers, names, various words, and amazing facts. The great app merely focuses to improve and enhance memory ability by using a flashcard approach. User can set the difficulty level according to their memory ability and the intensity of the game make sure that user will retain long term memory. best pc game apps for training your brain
Final thoughts
There is no shame in accepting that brain functions slow down with the increased age. There are many activities which demand to keep the brain active and help to upkeep the cognitive functioning. All of the best brain training game app are great for mental training because they target particular brain segments and sharpen the human mind. So pick the right app for you.