Increase device performance with 5 Best memory cleaner Apps
|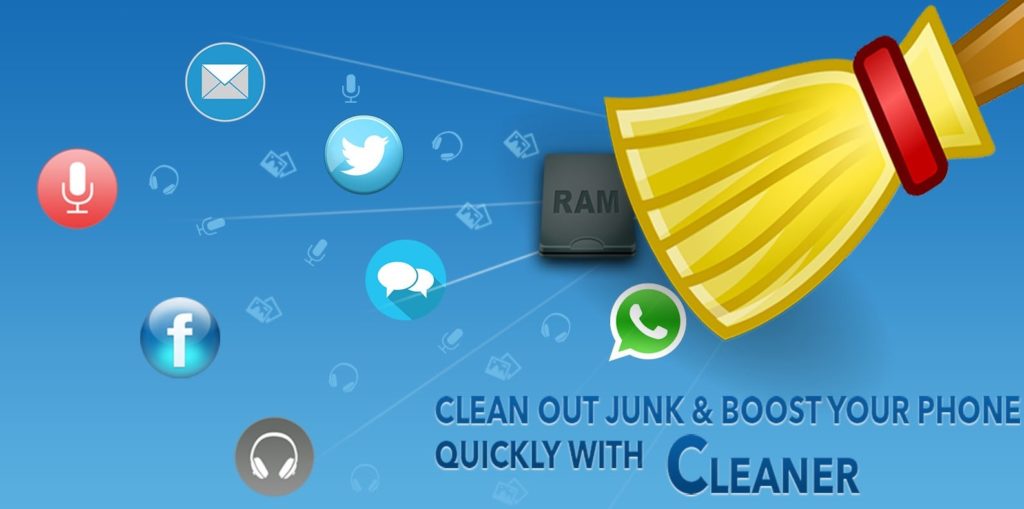 Cleaning up a phone or deleting files to increase the device performance is not always the solution of every device problem. Android smartphones are exceptionally developed but still regular maintenance is required to keep all the files digitally organized. A digital tune once in a while will protect your phone from spam or malware so that your device will perform longer and stays uninfected. Using reliable cleaner apps is the best option instead of deleting files on your own which may let you delete some necessary system files unconditionally. You will find 5 best memory cleaner apps for Android phones below mentioned in the list.
Why you need cleaner apps?
For Android, it is necessary to keep it well maintained and manage the device smoothly. We understand that a device is designed to do its work but clearing out junk data will enhance its performance and reduces the response time. The latest Android devices available in the market offer great device storage and RAM so that the user must not feel the need to clear up space after a couple of days.
Thus, if you notice Android device is performing slowly or the storage space gets full, one of the best memory cleaner apps will help you little.
1 – Norton Clean App

Looking for a top tier security and best cleaning Android app? There is no better and reliable option than Norton Clean. It is the best cleaning app claims to remove unnecessary and unused files. It automatically searches for trash data and wipes the junk file, clear cache and remove unused files or apps which you have installed but haven't used for a long time. The section of Manage Apps enables a user to sort out apps according to the installation data, last use and the consumed storage. Norton Clean is sponsored by Norton Antivirus Symantec and uses simple cleaning approach along with simple, bright and modern interface. To use Norton Clean, you do not need any technical skills because it is easy to figure out its features of app deletion and file cleaning. If your phone is running out of space, do install Norton Clean which does not take sufficient storage.
Download Norton Clean for free
2 – All in one Toolbox
Don't you think that cleaning phone is an important task? All-in-One Toolbox is the great app that assists in cleaning or removing temporary files, deleting unnecessary folders, clearing cache or unnamed files on the device. Boost function of All in one Toolbox closes unused background apps, cleans the system with just two taps. Boost+ function offers in-app purchases and can also be set automatically for scheduled cleaning. Even the battery saving function saves the battery power by closing all the unnecessary tasks along with the battery statistics. Moreover, there is also an app delete, Wi-Fi analysis, and a file cleaning tool. It means All in One toolbox is a great ranking app.
Download All in One Toolbox with free in-app purchases
3 – CCleaner App

CCleaner is not famous for desktop or windows but its Android app is also perfect. The app assists well in cleaning the spammy files, folders or apps on the device. The multi functional CCleaner is great in cleaning after a thorough analysis and clears the space by deleting history, empty folders, clearing cache of apps and other unnecessary elements. The app manager has a great user-friendly and simple interface that enables the user to pick and delete various apps. System Info section monitors all the device details, RAM, CPU for the quick review. Thus, the app is not available for free but demands subscription charges to avail premium features.
Download CCleaner from here
4 – The Cleaner App

For an intuitive yet amazing app, The Cleaner is a great app that takes little space on an Android device. The app owns an intuitive design enabling a user to uninstall apps. The device can be cleaned periodically by scheduling proper optimization. The OS of the app is embedded with features to improve the Android device performance. The Cleaner dashboard is detailed and offers lots of options to enhance mobile performance. Even the game boosting option is best to speed up games by reallocating all necessary resources. User can get benefit by applying PIN to their desired apps for security purposes.
To download The Cleaner click here
5 – Clean Master
Clean Master is an antivirus as well as the great Android cleaner app that assists to enhance the working of a smartphone by clearing the cache and speeding up the RAM. The tool helps to clean the junk files by removing cache and residual that often makes a device slow by consuming space. The apps are scanned regularly to remove virus or block apps that may harm the device. The feature of Photo Vault hides the personal photos or can protect your photos with a PIN. Clean Master safeguards the device optimally and protects an Android device from online threats including unsecured Wi-Fi networks.
Download Clean Master now
Wrapping up
All of the above mentioned are the 5 best memory cleaner apps that assist in improving the performance of the Android gadget. So select any of the above apps which suit best to your need. if we have missed any of the important apps, do mention below in comments.