Reading Eggs For Android, a fun, interactive educational app for kids
|
Over the recent past, technology has changed many different aspects of our lives, with internet and smartphone penetration reaching very high levels. In the midst of all this, the education sector is something which has also benefited quite a lot. Today, technology helps support and delivers education in new and innovative ways, allowing the development of individuals all over the world.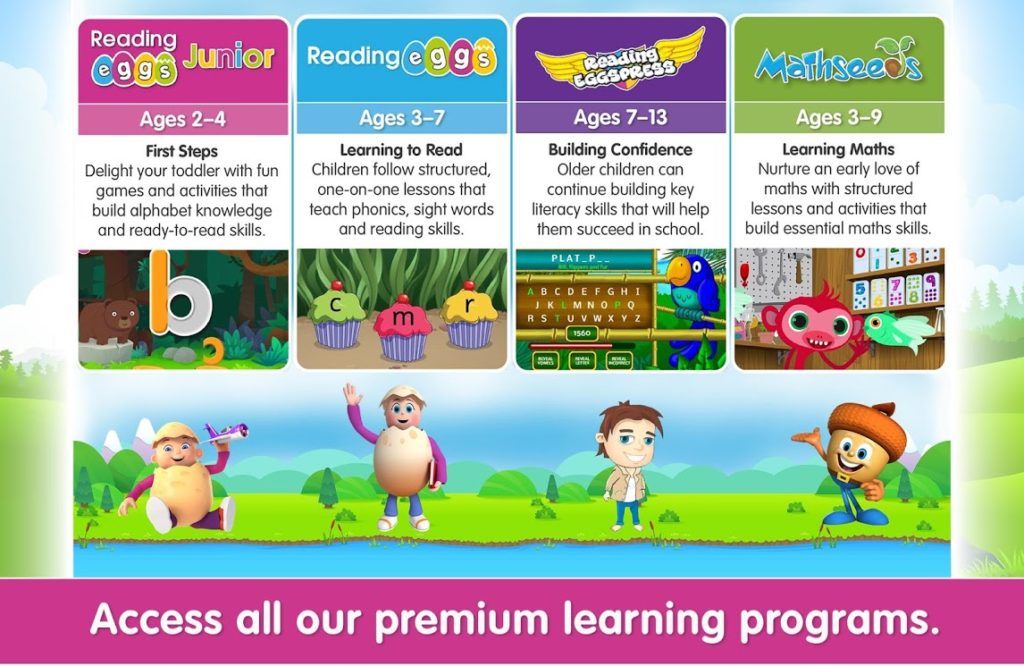 Of many different companies which cater to education with the help of technology, Reading Eggs is one which is quite noteworthy. This company offers an online teaching program targeted at children between the ages 3 to 13, which allows the development of reading skills. An innovative and interactive program, the lessons and study programs to be offered are well laid out and are designed to encompass all necessary modules of reading. Most of the programs are available in the form of apps on iOS and Android platforms.
Educational Apps for Kids – iPad and Android

While the program has been well designed to appeal to young children, the program is also friendly to parents and teachers. There are many useful tools and features, which offer many options to teachers as well as parents. Teachers are offered out useful user guides and toolkits, which can greatly assist in teaching young children. Another great feature of this program is reporting, wherein teachers are provided with downloadable reports and letters, which can then be shared with parents.
The fun, interactive program also includes diagnostic tools and components, which make is easy for parents and teachers to judge performance of children. With metrics spanning all lessons and activities, the program is extremely well structured and is quite comprehensive as well.
Research studies have pointed out that this interactive program can actually help speed up and develop reading skills in children. Studies have also indicated that the program helps motivate children and encourages them to become high functioning individuals later on in life.
Reading Eggs is offered out on a subscription basis to both parents and schools, with subscriptions being handed out on a monthly, half-yearly and yearly basis. While prices for this subscription service are quite affordable, consumers can obtain some savings by making use of a Reading Eggs discount code.
There are different types of Reading Eggs promo code to be featured with some offering deals on subscription and cash back offers and some other promotional codes offering a free trial period for 2 weeks to try out the service. Any consumer unsure of this program can make use of this wonderful period before deciding on whether to shell out money for a longer subscription.
Reading Eggs offers a really fun and interactive method of learning for children. While there are many other educational apps in the market, few are as detailed and as comprehensive as this one. For certain reading skills can be developed much faster with the help of this program. However, before you decide to pay for this service, you should definitely take a look at promotional coupons, which can offer you discounts across subscriptions and free trial offers.
The Best Reading Apps for 4- to 8-Year-Olds
Reading Eggs has already helped over 10 million children worldwide learn to read. The monthly subscription includes full access to:
• Reading Eggs Junior (ages 2–4): Toddlers build pre-reading skills such as phonemic awareness and alphabet knowledge with fun activities, games, videos, and read-aloud books.
• Reading Eggs (ages 3-7): Children take their first steps in learning to read, covering phonics, sight words, spelling, vocabulary, and comprehension.
• Reading Eggspress (ages 7-13): Continues the learning journey by helping children learn to read for meaning and enjoyment.
• Mathseeds (ages 3–9): Develops essential early numeracy skills, covering numbers, measurement, shapes, patterns, and more.
• Printable teaching material: Hundreds of printable worksheets reinforce essential skills and concepts covered in the programs. Homeschoolers have access to detailed curriculum guides for grades K–2, as well as lesson plans, assessment tasks, printable certificates, and real-time progress reports.